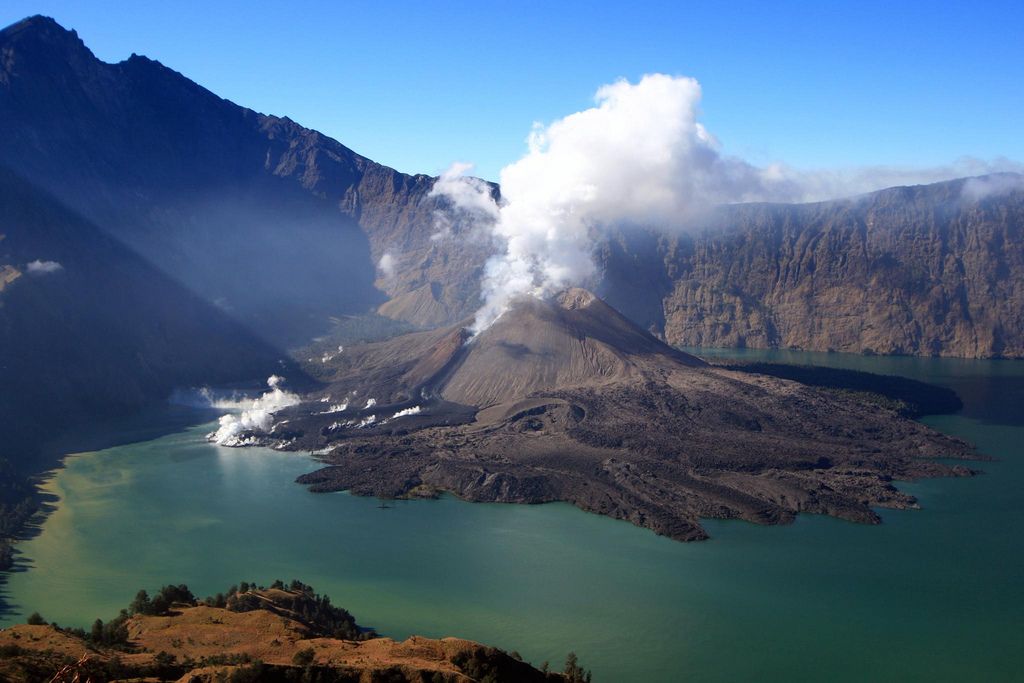 Climb to the mountain Rinjani through the Sembalun is easier because located at 1,150 m while Senaru at 601 m above sea level, climbing usually towards Pelawangan Sembalun and the second day to the summit of Rinjani then down to the lake of Segara Anak, hot spring water and walk up to Pelawangan Senaru for camping and the next day down to Senaru.
Our Tour Program
Rinjani Trekking 3 days
:
Rinjani Trekking Tour
start from Senaru Village and finish at Sembalun Village This trek available base on request, individual or group, aged 11 - 50 years old. People who has mountain sickness is not recommended to do this trek.
Day 1: Senggigi Beach - Senaru Village (601M) - Senaru Crater Rim (2641M) Pick up 05.00 am at your hotel and depart Senaru village, registration at Rinjani Trek Center ( RTC ) and continue hiking to Senaru Crater Rim campsite, walk through sheltered thick tropical forest with rich of flora.
Day 2: Senaru Crater Rim (2641M) - Segara Anak Lake (2000M) - Sembalun Crater Rim (2639M) In the morning after breakfast continue the trip descend to Segara Anak Lake (2000M) through the crater, challenge the steep path ways and enjoy beautiful view a long the way down to the lake.
Day 3: Ssembalun Crater Rim (2639m) - Mount Rinjani Summit (3726m) - Sembalun - Senggigi 02:30 AM start hiking to the summit of Mount Rinjani (3,726 m), the most challenge walk through volcanic sands.
06.00 AM reach the top of Mount Rinjani, enjoy proud feelings of achievement and amazing sunrise view across the Wallace Line to Bali, Mt. Agung and Sumbawa. 07.00 AM descend back to the campsite, enjoy breakfast and take some rest.
Price: USD230 /person (min 2 person)
Posted at 11:58 pm by delfi